Guest Post: 3 Tips for Participating in National Bike to Work Week
Write in the middle of National Fitness Month it's National Bike to Work Week. Coincidence?! I think not!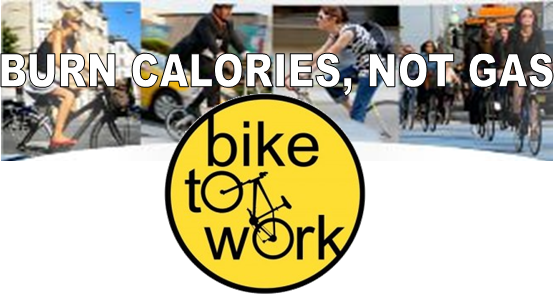 Biking to work is a great way to sneak more fitness into your already busy schedules. You can even practice a few runs at home on the ProForm Le Tour de France bike, since it has all the features to make you feel like you're out on the real streets anyways!
Unfortunately we all have to go to work anyways, why not get our fitness in and bike to work this week?! Here's some great tips to help you do just that:
3 Tips for Participating in National Bike to Work Week
Set in the middle of National Bike Month, National Bike to Work Week, May 14-18, encourages Americans to do their part to eliminate dangerous emissions as well as promote good health through exercise.
While helping the environment and your health may be inviting, there are a few things you should consider before hopping on a bike and blazing through traffic:
1. Plan ahead
Riding to and from work necessitates some obvious forethought. First, and most basic of all, is the issue of clothing. Most of the time, people wouldn't be comfortable wearing on a bike what they wear at work, or vice versa. Keep one or more change of work-appropriate clothing in your office. Also, at the office, make sure there is a secure place to store your bike while you work. You may even need to bring a bike lock.
Next on the list of things to do before you bike is finding a route. This could be more or less complicated depending on where you live. Regardless of whether you are in an urban or rural area, though, it's wise to drive on the specific route you plan to take. Keep an eye out for what might concern you if you were on a bike rather than in a car. Also, keep in mind that biking is a lot slower than driving, and cyclists should account for more travel time when biking.
Finally, check the weather. While you may be excited about what you're doing, Mother Nature might have something else in mind. Keep an eye on the forecast as well as the horizon for inclement weather, and be ready to change plans at the last minute if an unexpected storm rolls in.
2. Get the right gear
Everyone is different, so the right gear for one person may not be right for another. Infrequent bike commuters don't need expensive equipment, but it is a good idea to have the necessities. Tire repair tools are a must, and make sure you know how to change a tire before it's too late. Riders will also need a water bottle, adequate head and eye protection as well as distance or health monitoring equipment if interested. If you have any questions about gear, it's best to head to the nearest trusted retailer and speak with a bike specialist.
3. Be safe
Know rules of the road regarding bikes and cars. Remember that cars are bigger, so even if a cyclist has the right of way it doesn't mean drivers will yield as they should.
Also, keep in mind that just because every driver should have insurance that would cover damage done if they hit you, doesn't mean every driver does. Make sure your own insurance will cover any potential harm or loss from an accident. The main reason to bike to work is to reduce stress in your life, not create it.
If you have any health concerns, be sure to consult your doctor before changing significant exercise patterns. Beginning cyclists often underestimate the distance they are able to safely travel.
Finally, have fun. When all the bases are covered, trips are planned out and safety concerns are met, cycling to work can be a refreshing break from the norm. You might even like it so much you continue biking to work after National Bike Month.
Jeff Jacobsen is a freelance writer and editor who specializes in post payment review with an enthusiasm for health insurance litigation.